IGNOU Gyan Darshan (GD) is one of the significant channels which mainly show the channel related to the field of Educational Television in India. It is one of the joint ventures which is started by the Ministry of Information & Broadcasting (I & B Ministry), Ministry of Human Resource Development (MHRD), IGNOU, and Prasar Bharati, which serve as the nodal department. IGNOU Gyan Darshan was launched in the year 2000, and it offers 24-hour educational channels which provides you the outstanding educational programs and covers up several subjects and helps to the number of viewers. These learning programs include lessons for primary, pre-school, higher and secondary students, college students, young people looking out for career opportunities, and various working professionals. The software is merged from numerous Development Organizations and Educational Institutions. Gyan Darshan daily organizes live interactive sessions for two hours so that they can build up the interactivity in the Open and Distance Learning system. Various IGNOU Regional Center functionaries and Teachers connect with students so that their issues can be resolved related to academic and administrative matters. Various Induction Programs for newcomers and conferences for the students who have been graduated are also conducted through live Teleconferencing.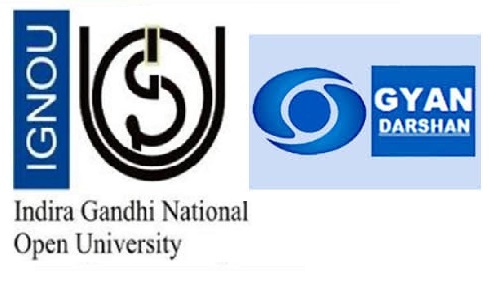 Also Check:- IGNOU eGyankosh all study materials free download
About the Gyandarshan channel & where to watch
This is one of the best educational channels which provides you the programs related to the IGNOU's courses, various programs related to general awareness, and numerous knowledgeable sessions with subject experts.

This channel is free of cost, and it should be provided by every DTH and Cable service providers & Jio TV, Airtel TV. You can also watch Gyandarshan online at https://www.ignouonline.ac.in/gyandarshan/.

IGNOU Gyan Darshan is now part of Swayam Prabha and can be watched on MHRD Channel no.25
Related:- IGNOU Gyandhara and Gyanvani schedule and Portal details
IGNOU GyanDarshan Schedule
IGNOU Gyandarshan Schedule has been released for January 2021. You can download it from the following Link.
[button-green url="http://www.ignouonline.ac.in/gyandarshan/schedule/Gyandarshan_Jan_2021.pdf" target="_blank" position="center"]Schedule of IGNOU GyanDarshan[/button-green]
Initiatives are taken by Gyan Darshan to provide adequate support services
Some of the useful initiatives which have been taken to present useful support services to the learners. Some of the useful initiatives are as follows -:
For processing, all the request Single-window facility is provided

Foundation of a unique Student Support Centre (SSC).

We are managing a wide range of student database at the Student Support Centre so that queries can be handled quite quickly.

Conducting various Interactive sessions with students to get the appropriate feedback about their proceedings.

Confirmation letters are sent to the aspirant's compromises of vital information, which is related to numerous activities and schedules.

Routine checkups of learner support centers to make sure that aspirants should get a good quality of academic support.

Providing complete Updated information related to admission, re-admission, project evaluation, and material dispatch, etc. which are easily available on the website.
Also Check:- IGNOU YouTube video Lectures all details
Various Platforms on which IGNOU Gyan Darshan is Available
In today's time, Gyan Darshan is easily available on numerous platforms such as webcast, so that they can easily enhance the ability of various IGNOU programs to audiences all around the world. This telecast on the Gyan Darshan is also quite beneficial for the students who are here for the formal education system, and the learners can have access to Gyan Darshan on IGNOU's website https://www.ignouonline.ac.in/gyandarshan/. As per indications from the Government of India, Gazette Gyan Darshan Channel should be part of DTH/Cabe operators, and this channel should be free of cost.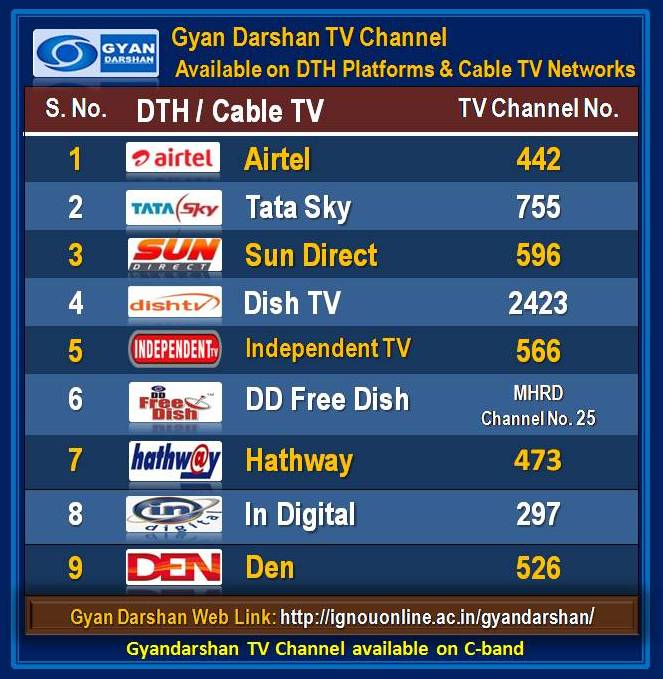 Also Check:- IGNOU Swayam Prabha Channel Schedule
FAQs Related to IGNOU Gyan Darshan
Q1. Is IGNOU Gyan Darshan Available on Free DTH DD Direct Plus?
Ans:- Yes Gyna Darshan and Swayam Prabha all these channels are available for Free on all Dish Service.
Q2. Can I watch IGNOU Gyan Darshan Channel Online?
Ans:- Yes, You can watch IGNOU Gyandarshan online at https://www.ignouonline.ac.in/gyandarshan/
Also Check:- IGNOU Passing Marks for TEE Exam and Assignments
Also Check:- How to get IGNOU Migration Certificate
Also Check:- IGNOU BA solved Assignment Free Download
Also Check:- IGNOU Yoga & Naturopathy Course Admission, Fees,Eligibility, Prospectus & Syllabus 
Important IGNOU Mostly Asked Questions
Thank You for visiting our Site, Keep visiting regularly to get all latest updates regarding IGNOU