IGNOU is considered as one of the essential online resources, usually which is opted by the students for distance learning programs. Indira Gandhi National Open University (IGNOU) has come up with various useful online portals and courses that directly meet up all the requirements of the learners, which are recognized from numerous genres. In this article, we have provides some information related to IGNOU Gyandhara. IGNOU Gyandhara is one of the useful links for active learning through internet audio. So let's find out what are different programs, courses, and skills can be accomplished from the IGNOU's Gyandhara online portals when the nation is going through the lockdown period.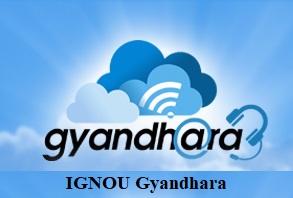 Some Useful Information Related to IGNOU Gyandhara Portal
Gyandhara is one of the internet audio counseling services which are offered by IGNOU to its students. All students can easily pay attention to the live discussions which are conducted by the teachers and experts on the specific topic of the day, and students can easily communicate with them by email, telephone, and also through chat mode. The live and recorded streaming of Gyandhara is also accessible for internet users throughout the world. All GV stations also transmit significant events which are broadcasted by Gyandhara Delhi by utilizing the Gyandhara feed.
Related:- IGNOU Gyan Darshan Channel for Study at Home
Some important points to consider for Gyandhara programs -:
Programs that are played on Gyandhara can also be heard on the FM channel Gyan Vaani from 8 am till 8 pm.

Gyandhara is a free-to-air channel that is accessible on the GSAT 10 satellite.

You can Listen Online Gyandhara Radio at https://www.ignouonline.ac.in/gyandhara/
Also Check:- IGNOU eGyankosh an E-Library of all course study Materials
IGNOU Gyandhara and Gyanvani Schedule
Gyandhara is an internet audio counseling service offered by IGNOU while Gyan Vani (GV) FM Radio was conceived in 2001 as a network of educational FM Radio Channels operating from various cities in the country.
Live Classes of IGNOU Gyandhara
For the students who want to have direct communication with the qualified teachers, IGNOU has constructed proper channels so they can easily interact with their teachers. There are numerous live classes which are conducted by the experts on Gyandhara, and students can communicate directly through web conferencing. Students who want to interact must have an excellent internet connection and mobile/laptop/tablet so that they can easily attend the class with a qualified teacher.
Also Check:- How to submit IGNOU Assignments online by E-mail
With too much information provides to the students, IGNOU is considered as one of the excellent options where learning of the new concept is made available free of cost without doing any kind of compromise on the learning aids. There are numerous online platforms on which IGNOU courses can be learned efficiently and effectively. Some of the online platforms on which information related IGNOU courses provide such as Gyandarshan, Gyan Kosh, Gyanvani, and much more. So this is the best time to learn from these courses because, in lockdown time, we have adequate time to have complete knowledge about the concept from trained teachers.
FAQs related to IGNOU Gyandhara
How to listen IGNOU Gyandhara online?
You can visit the IGNOU Gyandhara e-portal https://www.ignouonline.ac.in/gyandhara/
is Ignou Gyanvani and Gyandhara different?
Yes they are different. Gyandhara is Online audio class while Gyanvani is an FM Radio.
Also Check:- IGNOU Passing Marks for TEE Exam and Assignments
Also Check:- How to get IGNOU Migration Certificate
Also Check:- IGNOU BA solved Assignment Free Download
Also Check:- IGNOU Yoga & Naturopathy Course Admission, Fees,Eligibility, Prospectus & Syllabus
Important IGNOU Mostly Asked Questions
Thank You for visiting our Site, Keep visiting regularly to get all latest updates regarding IGNOU