SWAYAM PRABHA is an initiative by Indian Government which features 32 DTH channels that are destined to telecast educational programs of high-quality. The service of these channels are available 24×7 and you will get at least four hours of unique content that will be re-telecasted for 5 times a day. IGNOU Swayam Prabha Channels are also included in those 32 channels. 
IGNOU had earlier 5 different swayam prabha channels dedicated for only IGNOU content but ministry of Telecom has rearranged and re alloted 4 Swayam Prabha Channels consecutively from channel 17-20.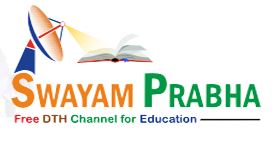 This allows the students to choose their own schedules and learn conveniently. Various boards are providing content such as NCERT, IGNOU, NPTEL, NIOS, UGC, and CEC. All the channels are uplinked with the help of BISAG, Gandhinagar.
Related:- IGNOU eGyankosh free study material of all subjects
What are the objectives of IGNOU SWAYAM PRABHA?
The compilation of 32 DTH channels will be covering the following during their telecast:
School education: This covers various modules for the training of teachers and helping students to learn in India. With this, students can get help in the preparation of their competitive exams and understand their respective subjects in a better way.
Higher Education: This contains modules for the courses that are based on curriculum followed by under-graduate and post-graduate subjects. The subjects covered will be commerce, arts, social science, science, agriculture, humanities, technology, engineering, law, and medicine. The courses will also provide a certification on their completion through SWAYAM.
Student assistance: The students who are studying in class 11th or 12th will get assistance for the preparation of competitive exams.
Courses based on curriculum: The Indian citizens living in India and foreign that are determined for life-long learning can get their needs fulfilled through these courses.
Also Check:- IGNOU B.Ed Admission 2020 All Details
IGNOU Swayam Prabha Channel numbers
Earlier IGNOU's swayam Prabha Channels were Channel 23-26 and Channel 32. But after revised notification new Channel numbers are Channel 17-20. Read the following table for understanding every channel's details.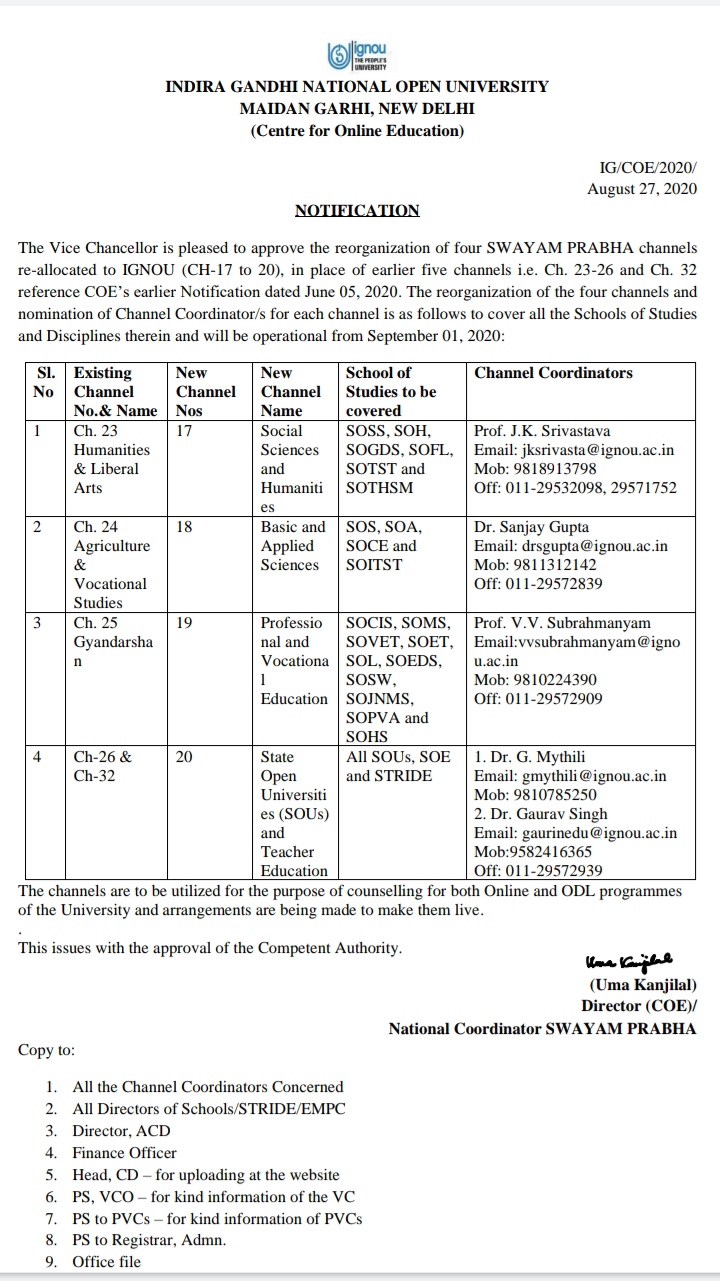 How to watch SWAYAM PRABHA channels?
In order to telecast SWAYAM PRABHA channels, you need to have a receiver system that will consist of three units as follows:
A small Antenna for DTH dish equipped with LNBF

An indoor set-top box. For people who have subscribed to free dish by Doordarshan, they can use their existing set-top box to watch the educational channels

A remote control for operating the STB
Also Check:- Best Books for IGNOU Exams
Features of SWAYAM PRABHA portal
The portal provides these services as follows:
It provides a program schedule to get information about all the programs and channels with their telecast time, subjects covered, and duration.

It provides the feature to search and browse for your desired channels with a clean and easy-to-use interface

It also lets you provide genuine feedback based on your experience with the channel and content telecasted on them

It provides the feature of archival of videos to sort the channels on the basis of your personalization

It also provides a mobile app to access the rich content from anywhere with the help of a smartphone
Schedule of Swayam Prabha channels
As stated above, there are a total of 4 channels available with a diverse range of content related to education. The topics are discussed on different days of the week. Each topic has a distant telecast date and the shows are re-telecasted on each channel for 5 times a day.
In order to receive the schedule for each topic, you can visit the official website of IGNOU and download the pdf format of the whole schedule. Lastly, take advantage of these educational channels and excel in your academic career now.
How to get IGNOU Migration Certificate
Also Check:- IGNOU Yoga & Naturopathy Course Admission, Fees,Eligibility, Prospectus & Syllabus 
Important IGNOU Mostly Asked Questions
Thank You for visiting our Site, Keep visiting regularly to get all latest updates regarding IGNOU