IGNOU students who were waiting for the date Sheet of term-end examinations December 2020 we are here with a bad news for you. IGNOU TEE Drcember 2020 exam has been postponed to February 2020. As per the new notification released by IGNOU on 29th October 2020 It is stated that TEE dec 2020 examinations have been postponed. The notification also states that the term and examinations are likely to be held on first week of February 2020. Along with the exam date, the examination form submission date for TEE December 2020 has been also extended to 15 December 2020.
Also check:- IGNOU tee December 2020 examination form
Notification Released by IGNOU regarding postponement of TEE exam
IGNOU has released the notification on its official website regarding the December 2020 Term End Examinations, which is released on 29th October 2020. The last date of assignment submission has also been extended to 15th December 2020 for December 2020 examinations. The notification also gives clarity to the to the June and September 2020 examination fee issues.
You can check the notification below.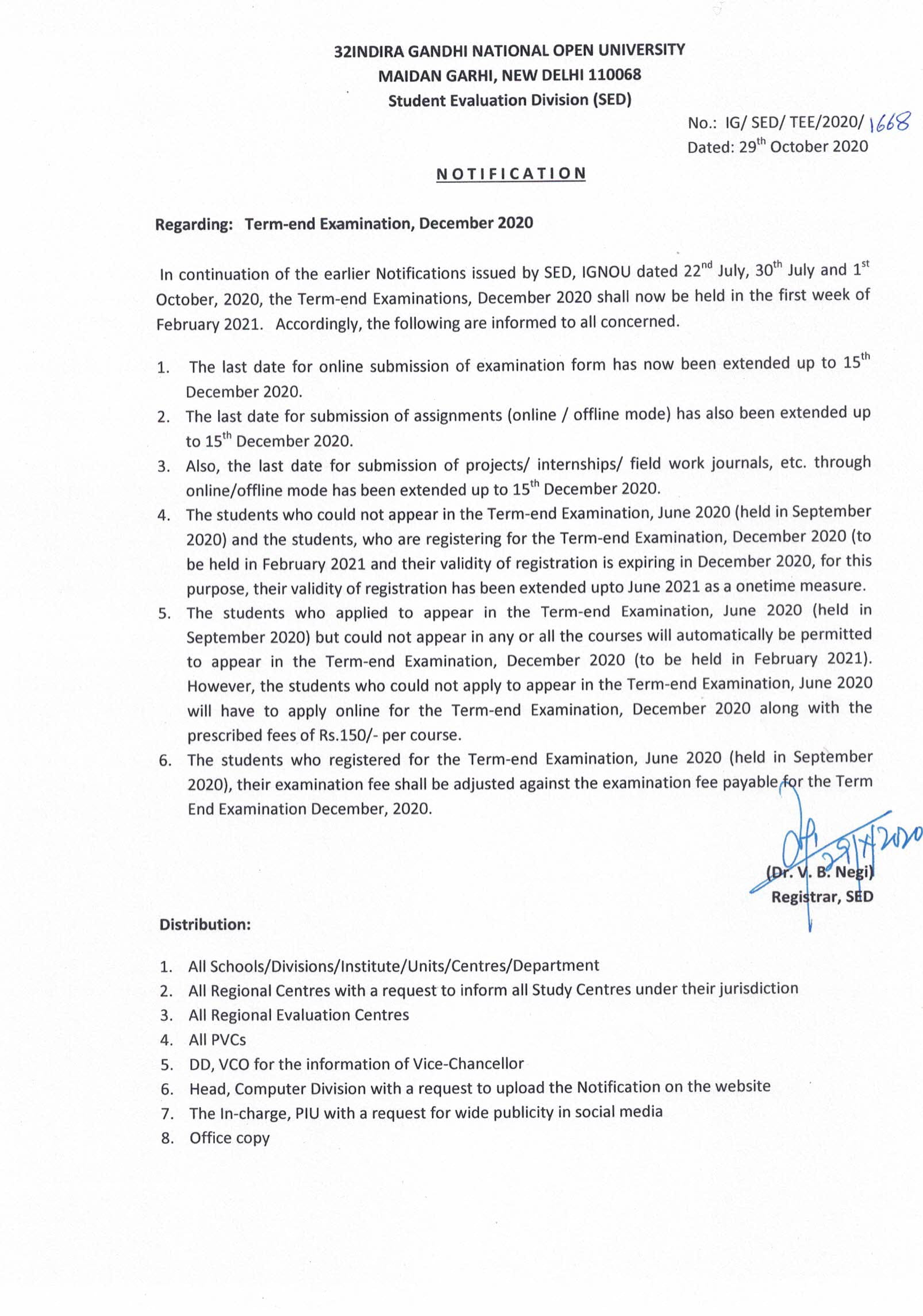 Why the dates are postponed?
IGNOU hasn't mentioned in their notification about any reason of postpone moment of exam but there are several possible reasons. All classes and official activities of IGNOU were suspended in lockdown forced by covid-19 pandemic. Classes were cancelled sessions got late and other activities were paused. Even the june 2020 examination was held in September only for the final year students. However it may be possible that IGNOU will conduct examinations for 1st and 2nd year students of session June 2020. For July 2020 students their study material distribution classes conduct and assignment submission got late due to lockdown so it may be the reason that examinations are postponed.
Read also:- IGNOU assignment front page download
Also Check:- IGNOU B.Ed Admission 2020 all details
Also Check:- IGNOU Yoga & Naturopathy Course Admission, Fees,Eligibility, Prospectus & Syllabus
Important IGNOU Mostly Asked Questions
If you have any question or doubt Please comment below and keep visiting IGNOU News.