IGNOU RC Delhi 1 has revised guidelines for online assignment submission of current session July 2020 for Term End Exam of December 2020. First IGNOU RC Delhi 1 was accepting assignments offline at all study centers and regional centers. But on 28th October 2020 IGNOU Regional Center Delhi 1 has released a new notification about assignments submission. Now IGNOU RC delhi 1 is accepting assignments by a centralized google form. Students associated with a particular study center can submit their assignments by Google form from the link given below in this page.
Also Check:- IGNOU FST-01 Solved assignment free download.
In this post you will find revised Guidelines and google form link to submit assignments at IGNOU Regional center Delhi 1.
Related:- For detailed guidelines of Online Assignment Submission Click Here
Related:- IGNOU RC Delhi 2 guidelines for Assignment submission 2020
Note:- No offline assignments will be accepted at study centers. But, you should keep your hard copy of assignments which can be asked any time.
Official Notification Released by IGNOU RC Delhi 1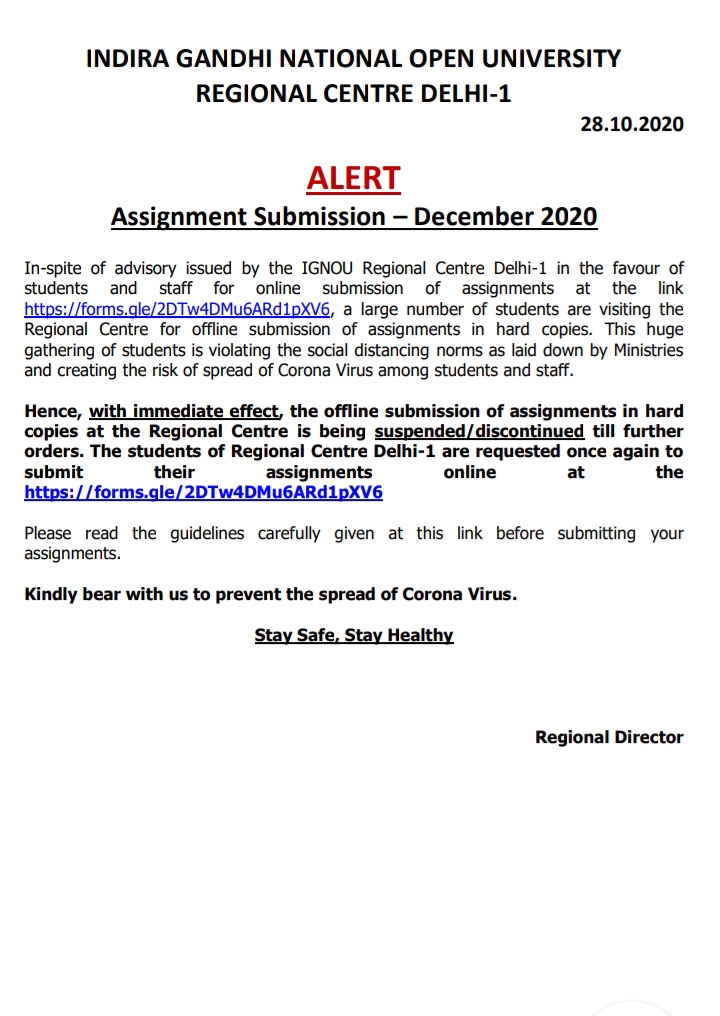 Direct Link for Assignment submission by Google Form
The direct link for Assignment submission is given below. You can click on the link and fill the Form which will contain your enrolment number and course details. After that you can upload your scanned PDF file of assignments and click on submit.
Google Form link :- https://forms.gle/2DTw4DMu6ARd1pXV6
Please do not send any assignment at any email of the Regional Centre Delhi-1, it will not be considered. No email in this regard will be responded individually.
Please write your name and enrollment no at the bottom of each page of your Assignment. Also, pl put Page Numbers at the bottom of all pages of your Assignment.
You need to submit one Assignment at one time. For submitting another Assignment fill the Google Form again.
This page will be 2nd page of your all assignments.
How to get IGNOU Migration Certificate
Also Check:- IGNOU BA solved Assignment Free Download
Also Check:- IGNOU Yoga & Naturopathy Course Admission, Fees,Eligibility, Prospectus & Syllabus
Important IGNOU Mostly Asked Questions
Thank You for visiting our Site, Keep visiting regularly to get all latest updates regarding IGNOU