Indira Gandhi National Open University is an open University present in each and every state of India. One of its largest Regional center is present in the Capital of Rajasthan i.e Pink City Jaipur.
On 16th December in 1987, this IGNOU Jaipur regional center was established. It was located in Kota but then in 1990 the regional center got moved to Jaipur.
Over the years, the Jaipur Regional Center has emerged as the largest IGNOU Regional Center across India, surpassing 2.0 lakh figures. Started with 5 study centers and 566 students in 1987, IGNOU RC Jaipur has made 226 study centers/LSCs etc did not reach the institute which has about 250 programs launched by the university.
Also Check:- IGNOU Admission july 2020 all details
IGNOU RC Jaipur Support Services for Students
Support Services Link for RC Jaipur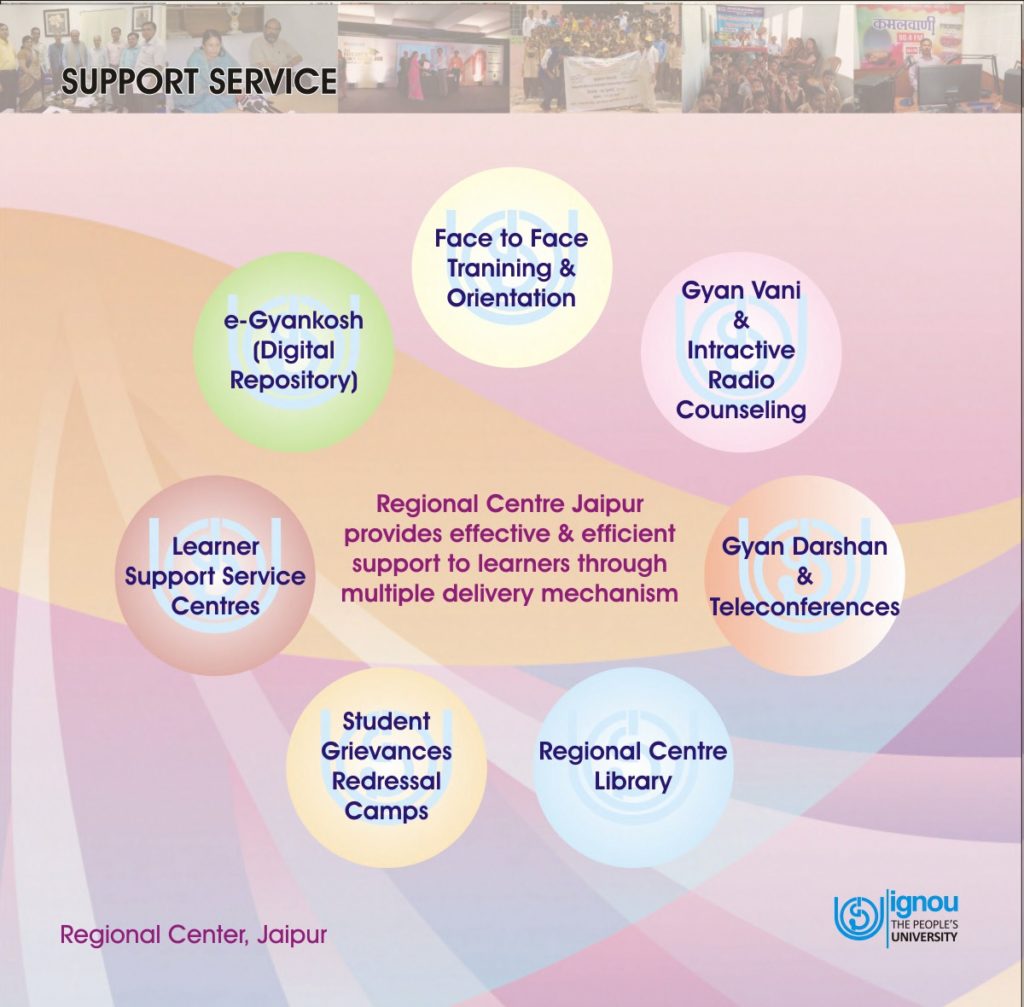 | | |
| --- | --- |
| University | IGNOU |
| Regional Center | Jaipur |
| Official Website | http://rcjaipur.ignou.ac.in/ |
| Courses offered | All IGNOU Courses |
| Tel no. | 0141-2785730 0141-2396427 |
IGNOU RC Jaipur Study Centers List and Contact Details
IGNOU RC Jaipur covers major Districts of Rajasthan including the capital city Jaipur. Ajmer, Sriganganagar, Sikar, Dholpur, Bundi, Kota & Jhalawar etc districts comes under the jurisdiction of IGNOU Jaipur Regional Center, If you want to check the list of Learner Support centers and their contact details then click on the pdf link given below.
Also Check:- IGNOU Assignment Front Page format
Courses available in IGNOU Regional Center Jaipur
IGNOU offers a variety of types of courses like master's degree course, pg and advance diploma, certificate course, bachelor degree, diploma, and application programs.
Diploma – BPO Finance and Accounting, Creative writing in English, Tourism studies, Urdu, Nutrition and Health Education, Watershed management, etc.
Certification – Anti-human trafficking, Business skills, Disaster Management, HIV and family education, Human rights, etc.
Post Graduation – Cyber Law, Agriculture policies, Information security, Patient practice, etc.
Bachelor's Degree – Arts, Commerce, Education, Social work, Computer Application, etc.
Master's Degree – Arts, Business Administration, Commerce, Anthropology, Dietetics and food management, etc.
Doctoral Degree – Post Doctoral Certificate in Dialysis Medicine (PDCDM)
Also Check:- IGNOU Regional Centers List
Admission details of IGNOU RC Jaipur:
> Admission to all Diploma, Bachelor, Graduate, or Certificate level IGNOU programs is done through the single admission. The general admission form filled online on the IGNOU website you need to fill online even to enroll in IGNOU Jaipur Regional Center between June or January.
IGNOU offers there admission process in January and June for all the courses.
> When filling out the form, you will have the option to select your regional center. Here you should select Jaipur Regional Center and you will be registered in this center. At the end of the admission process, you will find a study center that will be a college in or around Jaipur.
> To secure access to IGNOU you need to register online on the IGNOU Admission Portal. Admission to most programs at IGNOU is based on the candidate's qualifications and scores in the degree of qualification.
Those who want to apply for admission to study center in Jaipur IGNOU, they need to submit these documents- academic records, category certificate for sc, st, obc, age proof, application form can be obtained from Regional Center or IGNOU Headquarters. Copy of ID card of the educational certificate.
Also Check:- IGNOU Yoga & Naturopathy Course Admission, Fees,Eligibility, Prospectus & Syllabus 
Eligibility criteria:
> Eligibility for postgraduate in any department including 50 percent marks in the general department and 45 percent marks in the reserved department.
> Candidates who successfully enter the entrance exam for the management program administered by companies such as CAT, MAT, and state-level exams are not required to appear in the open mate
Non-Bachelor 10 + 2, with six years of Management / Supervisory / Professional experience, is eligible for admission to Diploma in Management only after clearing the entrance examination.
IGNOU Jaipur RC Contact Details
Address of Indira Gandhi National Open University, Jaipur Regional Center:
Regional Centre Jaipur
70/80, Sector-7,
IGNOU Path,
Patel Marg Mansarovar,
Jaipur-302020 (Rajasthan),
Tel. No.: 0141-2396427,
Tel. No.: 0141-2785730
http://rcjaipur.ignou.ac.in/
FAQs about IGNOU RC Jaipur
Q1. Does IGNOU RC Jaipur provide B.Ed Course?
Ans:-  Yes IGNOU RC Jaipur provides B.Ed course.
Q2. When IGNOU RC Jaipur was established?
Ans:- IGNOU Jaipur RC was established in 1987 in Kota district of Rajasthan.
Q3. Which IGNOU RC to choose for students of Kota and Jhalawar District?
Ans:- Students of Kota and Jhalawar District will have to choose IGNOU RC Jaipur.
Also Check:- How to submit IGNOU Assignments online 
Also Check:- IGNOU Assignment Status check online all details
Also Check:– How to get IGNOU Migration Certificate
Also Check:- IGNOU BA solved Assignment Free Download
Important IGNOU Mostly Asked Questions
Thank You for visiting our Site, Keep visiting regularly to get all latest updates regarding IGNOU.