There are around 56 Regional Centers of IGNOU and one of them is Darbhanga. The Darbhanga Regional Center of IGNOU provides study material and access to students that are enrolled in any of the IGNOU programs under this centre.  IGNOU Darbhanga Regional Centre is coordinating University operations in ten districts of North Bihar i.e.- Darbhanga, Madhubani, Samastipur, Begusarai, Muzaffarpur, East Champaran, West Champaran, Sitamarhi, Gopalganj & Sheohar. At present total No. of LSCs are 20 under this region. IGNOU RC Darbhanga is situated in beautiful campus of Lalit Narayan Mithila University of Darbhanga. Recently this Regional centre had organized IGNOU 33rd Convocation and it was a huge success.
Alert:- IGNOU B.Ed Merit List released by IGNOU RC Darbhanga Click to Check
The admission to any IGNOU Programme of Diploma, Bachelor, Master or Certificate level is through a single admission window on IGNOU Website. You will have to fill out the common form on the IGNOU website even to enroll in IGNOU Darbhanga Regional Center in either June or January, depending on when you are planning to enroll in IGNOU. Yes, IGNOU offers admission in two cycles – January and June, for all the courses.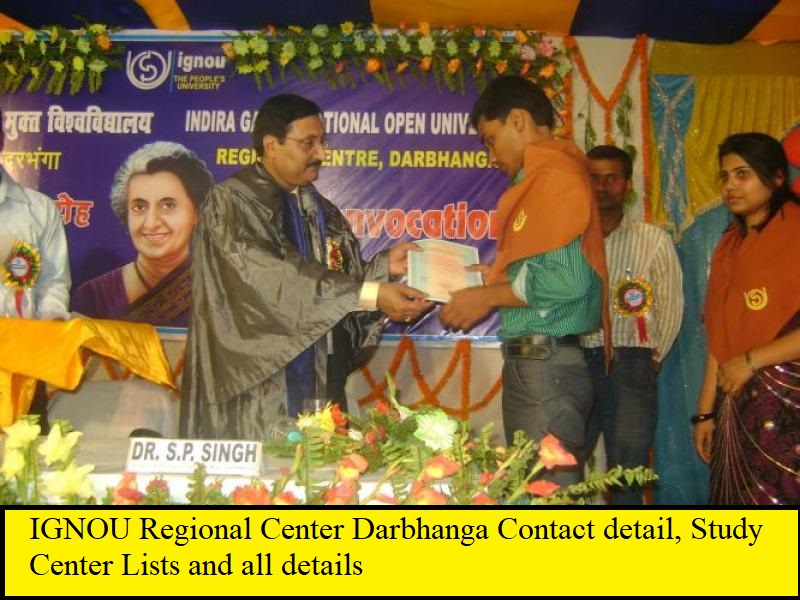 Read Also – How to change IGNOU Study center online
While filling the form, you will get the option to choose your Regional Center. Here you should choose Darbhanga Regional Center and you will be registered in this centre. You will get a Study centre which will be a college in Darbhanga or nearby.
Download IGNOU Darbhanga RC Prospectus
IGNOU RC Darbhanga Study Center List
There are around 30 Study centres in Darbhanga RC. These LSCs or study centers are spreaded in various districts like Begusarai, Samastipur, Madhubani etc. under jurisdiction of RC Darbhanga. You can download the list of study centers list of RC Darbhanga from the link given below. You can get address, contact detail and programmes offered of all Study centers.
IGNOU Darbhanga Regional Center Address
IGNOU Darbhanga Official Website address  http://rcdarbhanga.ignou.ac.in/
Postal and Contact Address
IGNOU, REGIONAL CENTRE, Darbhanga
Near Central Bank of India,
All the programs that are provided by IGNOU at Bachelors, Masters, PhD, Certificate or Diploma levels are regulated in the Darbhanga Regional Center of Indira Gandhi National Open University. There are no online programs and all the programs are on the distance education mode.
This means you can easily pursue a certificate/diploma course along with your regular studies without any worries in your area of interest from IGNOU Darbhanga Regional Center.
IGNOU Darbhanga RC achievements
Mr. Santosh Kumar, DEO, RC, Darbhanga has been selected for the Post of Scientific/Technical Officer in NIT, Patna.
01 Learner is an IAS namely Mr. Rahul Kumar and presently posted as Deputy Collector at Bodh Gaya.
01 Learner has been selected for the Post of Store Superintendent in Railway.
Must Read – IGNOU Kochi Regional Centre Details
Important IGNOU Mostly Asked Questions