IGNOU students who desire to improve their performance in the theory papers to increase their percentage can easily apply for the Improvement from the IGNOU Improvement Form. The students need to submit the application form along with the prescribed fee for each paper improvement exam.
What is IGNOU Improvement From Fees?
There is a difference in the IGNOU Improvement Form fee for each category based on Nationality.
Firstly, for Indian students, the university has set up a fee of Rs. 750/- per course to fill up an application form to improve Division/Class.
The students who belong to SAARC Countries have to pay Rs. 2000/- as an application fee.
$60 is the prescribed fee for Non-SAARC Countries Students.
You have to send the fee in form of a DD. This Demand Draft (DD) should always be drawn in favour of IGNOU payable at New Delhi.
Related Post – How to Change Course in IGNOU
Here is the address where you have to submit the application along with the DD. The applicants need to submit the application and fee to – Registrar, Student Evaluation Division, IGNOU, Maidan Garhi, New Delhi – 110068.
Important IGNOU Topics
Last date to fill up IGNOU Division Improvement Form
Yes, there is the last date until which you can fill the IGNOU Improvement Form. As IGNOU has two cycles of semesters, there are fixed dates between which you can fill the IGNOU Improvement Form.
Improvement in Division / Class in June examinations – 1st April to 30th April
Improvement Form for December examination – 1st to 31st October.
For more detailed instructions, please download the IGNOU Improvement Application Form and read it carefully.
Is there a twist? Oh, Yesss!
 Now not everyone is allowed to fill up the IGNOU Improvement Form. So who can fill it? Once results are declared you can apply for Improvement if you think
Must Read – Can I Pursue Two Degrees at a Time from IGNOU?
If you fall short of first or second class division by a small percentage, you can fill Improvement Form to try and get your grades near First or Second Division.
 How to fill the IGNOU Improvement Form?
 You can easily fill up the form
Download the Form – IGNOU Improvement Form 2019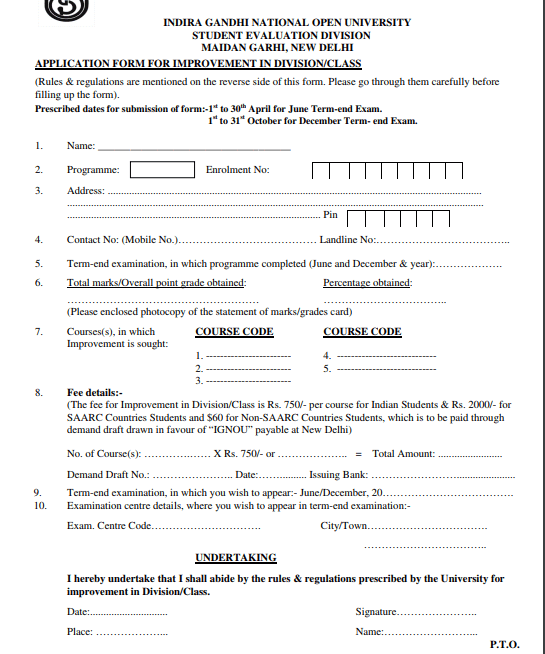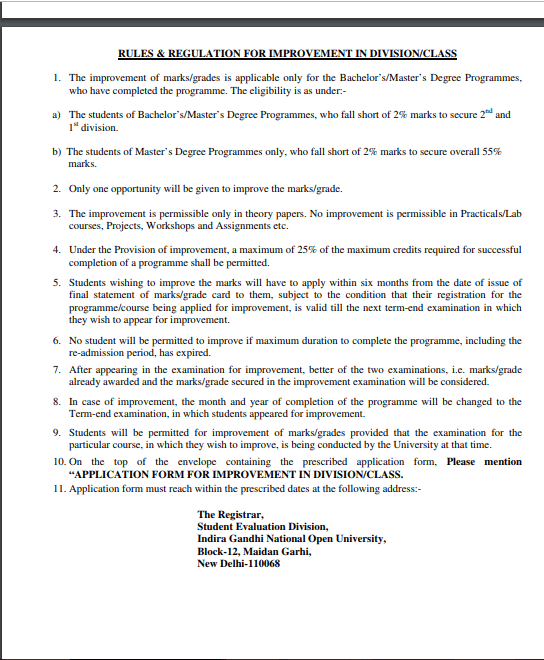 Download the form and fill up your result details. You will have to fill up these details:-
Name
Programme:
Enrolment No:
Address:
Contact No
Term-end examination, in which programme completed (June and December & year)
Total marks/Overall point grade obtained: Percentage obtained:
Make sure that you enclosed a photocopy of the statement of marks/grades card of your final semester.
Courses(s), in which Improvement is sought. You need to know the Course Name and Course Code.
Now there certain rules and regulations from the IGNOU and you can read them on the application form.
FAQ related to Improvement in IGNOU Exam Results
Que. What is the fee of Improvement in IGNOU?
If you belongs from India then you have to pay Rs. 750 for each exam and if you belongs from SAARC Countries then candidate has to pay Rs. 2000 for application fee and this money goes to Demand Draft of IGNOU in New delhi.
Que. A student who has already cleared the exam will be able to take part in IGNOU Improvement exam?
Yes, if a student has already passed exam after that also they can apply for improvement exam if they want.
Visit IGNOU News for the Assignment, Previous year question papers, Exams details, Notifications and many more. If you need more question paper or assignment comment down.