After a long wait due to Covid-19 pandemic IGNOU is finally conducting term end exam for session January 2020. As, Theory exams are going on smoothly IGNOU Regional centre Patna has decided to conduct Practical cum Viva for students of Final year in IGNOU. First time in the history of IGNOU, they are conducting viva via online mode i.e Virtual conference. Patna Regional centre has released complete schedule for Viva and practical on their official site along with list of students who will have to give Practical or Online Viva exams.
Also Check:- IGNOU RC Patna Contact, Study Center and other details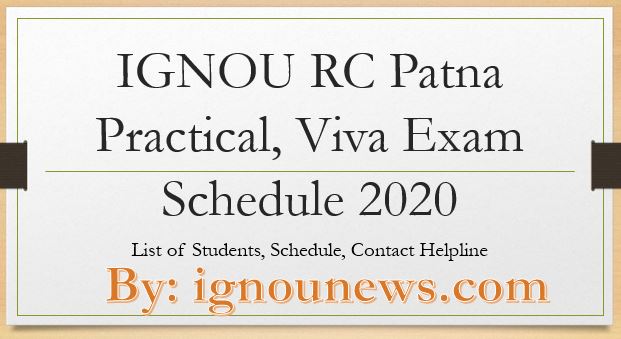 List of Students who need to be present in Online Viva Session
The online Viva voce session is for students of RC Patna who are studying in Programme BCA, MCA and CIT. Only students from these programmes are invited for VIVA Voce session. You can also check your name and programme in the list given below. You need to click on the button below.
Also Check:– IGNOU previous year question paper download
Schedule of Practical and Viva Voce for Final Year Students
IGNOU RC Patna has released a schedule for practical exams which are starting from 27th September 2020 and will end on 18 October 2020. Viva and practical both will be conducted in a total of 4 days but on different times. You can check your schedule for your specific course in the Schedule given below. Just download the schedule from the given link.
Related:- IGNOU Practical Examination Schedule Regional Center wise for TEE June 2020
What to do If I have missed Practical/Viva on 27th September?
If you have missed practical or viva on 27th September than don't worry. We are here with some good news for you. IGNOU has released a revised notice which states that if you have missed your Term End Practical on 27th September than you need to visit a link and fill your reason. an alternative arrangement will be made for those students. The link and notification is given below.
https://bit.ly/3mXXcDq
Download Notice
Contact Details
If you have any issue with the related Schedule or process of exams than you can contact on 8709067942, 9386899756.
Also Check:- IGNOU B.Ed Admission 2020 all details
Also Check:- IGNOU Yoga & Naturopathy Course Admission, Fees,Eligibility, Prospectus & Syllabus 
Important IGNOU Mostly Asked Questions
Thanking you for watching our post and supporting our site – IGNOU News. We promise that we will make available more updates in our latest post in the regular basis.