Have you ever downloaded or used applications and wished to know to make an app of your own to get that enormous continuous reward? The Certificate in Information Technology (CIT) is an introductory program to the exciting world of computers, where the possibilities are limited only to one's imagination. IT is the application of computers and telecommunication systems to produce, manipulate, store, organize, retrieve, and transmit data. It involves development, installation, implementation, management, and maintenance of computer hardware and software within companies, universities, and other organizations.
In today's world, digital technology is becoming an integral part of our daily life, be it using smartphones, buying plane tickets online using credit/debit cards, booking cabs through Apps, cash withdrawal from ATMs, searching online, posting a video online etc. Therefore, there is a need that everyone must be familiar with the necessary skills to use digital technology effectively. i.e., one should be digitally literate.
Digital Literacy may be defined as one's ability to search, organize, understand, evaluate, and create information using various types of digital technologies. Posting the video online displays someone's digital literacy's skill. The broad objective of CIT(Certificate in Information Technology) program is to impart digital literacy skills covering four essential topics: Computer hardware, software, multimedia and internet.
Also Check:– How to submit IGNOU Assignment Online
Program Duration, Passing Criteria and Attendance Requirement:
(A) Duration
Minimum Duration: 6 months,
Maximum Duration: 2 years,
Readmission Period: 6 months.
There is a provision for readmission after two years in case the program is not completed. The candidate will get six more months to complete the program after readmission, but one has to pay the requisite fee
(B) Passing Criteria: 40%. To complete CIT, one has to secure 40% in each academic component separately:
(i) Assignment
(ii) Term End Theory examination
(iii) Term End Practical examination
(C) Attendance:- 70% compulsory attendance is required to attend term-end practical examination; however, attendance to theory session is not compulsory (D) Submission of assignments is required to appear for term-end theory examinations.
(D) Medium of Instruction: The medium of instruction that is followed is English.
Also Check:- IGNOU Diploma Courses list after 10th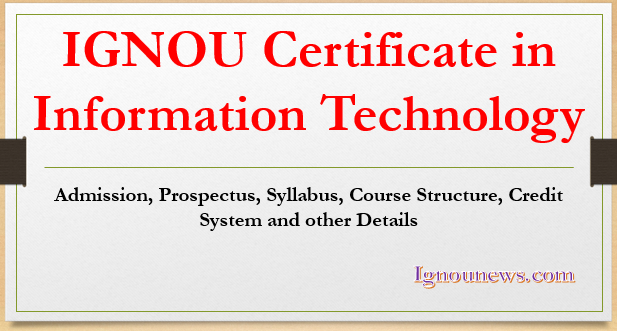 Eligibility for IGNOU Certificate in Information Technology Course (CIT)
If you want to take admission in IGNOU Certificate in Information Technology Course than you first check the eligibility of the CIT Programme and then proceed for admission. The complete eligibility for CIT is given below.
Eligibility: 10th Standard OR SSC OR IGNOU'S BPP or Microsoft's DLC or equivalent
What You will learn in CIT?
Develop algorithms and flowcharts for problem solving
programming concepts
concept of Networking
social, legal and ethical aspects of IT
latest trends in IT
concept of Multimedia
working with MS-Windows and Linux
Create databases
Create Web Pages
Certificate in Information Technology Fees
Total fees for IGNOU Certificate in Information Technology Programme is 6000 rupees and is to be paid in lump sum at the time of registration to the programme. The fees of certificate courses are changing regularly so, you are advised to confirm it from IGNOU's official website before admission.
Also Check:- IGNOU All Certificate Courses List and Details.
Course and Credit System of CIT
| | | |
| --- | --- | --- |
| Course Code | Course Name | Credits |
| CIT-001 | Fundamentals of Computer Systems | 4 |
| CIT-002 | Introduction to Information Technology | 4 |
| CIT-003 | Web based Technologies and Multimedia Applications | 4 |
| CITL-001 | Laboratory Course | 6 |
IGNOU Certificate in Information Technology Syllabus and Course Structure
CIT-001: Fundamentals of Computer Systems
Block-1 Hardware and Software: An Introduction (1 theory session)
Block-2 Problem Solving Techniques (2 theory sessions)
Block-3 Networking and Communication (2 theory sessions)
Block-4 Information Security (2 theory sessions)
CIT-002: Introduction to Information Technology
Block-1 Elements of Information Technology (2 theory sessions)
Block-2 IT in Action (1 theory session)
Block-3 Information Systems (2 theory sessions)
Block-4 State of the art practices in Information Technology
(1 theory Session)
CIT-003: Web based Technologies and Multimedia Applications
Block-1 Internet Concepts (2 theory sessions) 
Block-2 Web Page Design (2 theory sessions)
Block-3 Introduction to Multimedia (2 theory sessions)
CITL-001: Laboratory Course
Lab Manual-1
Unit-1: Introduction to Operating System features and utilities of MS-Windows and Linux (2 practical sessions)
Unit-2: Programming in 'C' (3 practical sessions)
Unit-3: Word Processing (4 practical sessions)
Unit-4: Spread Sheets (3 practical sessions)
Lab Manual-2
Unit-1: Presentation tools (1 practical session)
Unit-2: Databases (2 practical sessions)
Unit-3: Internet Programming (2 practical sessions)
Unit-4: Web Page Design (1 practical session)
Also Check:- IGNOU Certificate course in Arabic Language
Certificate in Information Technology Admission
Admission for Certificate in Information Technology is going on from 1 February 2021. You can now apply for admission in IGNOU CIT Programme. The admission process for this course is very simple. You just need to apply on IGNOU's official website through online mode. After successfully paying admission fees you will get confirmation of your admission. To know all details about admission in IGNOU and apply online click on the link given below.
Click Here to apply Online for IGNOU Admission
Also Check:- IGNOU BA solved Assignment Free Download
Also Check:- IGNOU Yoga & Naturopathy Course Admission, Fees,Eligibility, Prospectus & Syllabus 
Important IGNOU Mostly Asked Questions
Thank You for visiting our Site, Keep visiting regularly to get all latest updates regarding IGNOU